VIRTUAL TOUR
ONE DAY, IN CHICHEN ITZA

WHAT'S CHICHEN ITZA?

Chichen Itza is in the south of Yucatan Peninsula in Mexico.
It means "Where the Wise Men of the Water live"
And the trive which conquered this city in 10th century is called "Itza."
Each construnction has a kind of weird story,
which makes this site very exciting.








I'm a priest. I'm a warrior. I'm a girl. I'm a prisoner.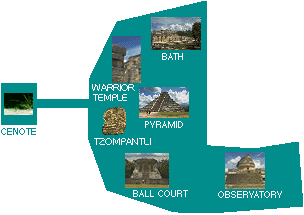 THE KUKULCAN PYRAMID
THE OBSERVATORY
THE BALL COURT
THE TEMPLE OF WARRIORS
THE BATH
THE CENOTE
TZOMPANTLI



[ANCIENT WORLD CLUB HOMEPAGE]