VIRTUAL TOUR
ONE DAY, IN CHICHEN ITZA

THE OBSERVATORY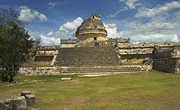 See? We're observing the sky within this building.
I'm sure the dome will remind you of a modern ovservatory.
There are small holes on the wall of the dome from which we look at the sky
to watch the sun, the moon, or the Venus.
We have several calendars and one of them is just like yours,
a year has 365 days.
Unfortunately, we didn't have a leap year ...