VIRTUAL TOUR
ONE DAY, IN CHICHEN ITZA

KUKULCAN PYRAMID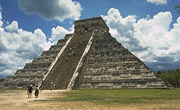 Whew! You know what?
We have to go up these stairs to get to the temple on top.
This pyramid is the symbol of our calendar,
and when you go up the stairs, you can say "Oh, I came up by the level of one month."
It's us who calculate the days and represent in the pyramid,
so I must say we're a kind of intellectuals in this period.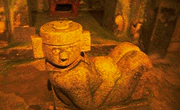 Don't forget.
Inside the pyramid, there's another temple
on which we constructed the pyramid.
You must take a look at it.

NEXT

CHICHEN ITZA HOMEPAGE