VIRTUAL TOUR
ONE DAY, IN CHICHEN ITZA

TEMPLE OF THE WARRIORS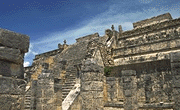 This is the temple built for us.
On top of it, we put a human's head as a sacred offering.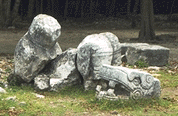 This is what you call Chac Mool,
on which we put the human's head.
This may sound very cruel for you,
but our god needs it.
I think human's blood makes us feel something like ...
sacred ecstasy.