VIRTUAL TOUR
ONE DAY, IN CHICHEN ITZA

CENOTE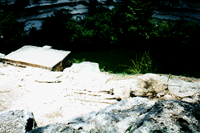 After taking bath, my purified body will be thrown into this well
as an offering to the water god.
This well is called 'Cenote' which provides us water for daily life.
Cenote is too important for our city so that we must give it offerings.
In 20th century, people from other world would pick up my bones
with other precious objects ...
Too sad, huh?
But this is my life in this world.