SERPENT

ELEPHANT

BULL

EAGLE

MONKEY

HORSE
BACK
A Buddhism temple 'Neak Pean.'
You can see a sacred horse 'Balaha' in the central pond.
Balaha is a manifestation of the bodhisattva Avalokitesvara.
In a Buddhism legend, Balaha saved men who were trying to escape from a female ogres' island.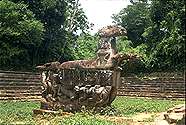 Balaha,a flying horse.
The men escaping from an ogres' island are holding its legs.