SERPENT

ELEPHANT

BULL

EAGLE

MONKEY

HORSE
BACK
Monkeys in Hindu are great helpers for humans.
The leader of the mokeys is a monkey god, Hanuman.
In the Indian epic 'Ramayana,' Hanuman worked so hard to help Prince Rama.
This monkey can fly(!), and it says it's a model of a Chinese and Japanese folktale.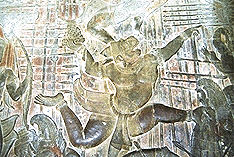 'Ramayana' relief in Angkor Wat.
Monkeys led by Hanuman attack demons.