FUNERAL CUSTOMS
While most of funeral ceremonies in Indonesia have followed the way of modern religions, such as Islam, Christian, or Tao, some tribes in Indonesia still practice traditional funerals. II'll give you four examples.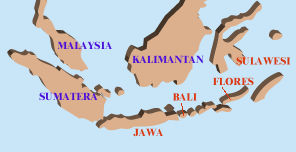 1. JAVA
Among Javanese, funerals involve several activities called selamatan (selamat in Bahasa means safe, wish, happy, good luck). The first selamatan is held on the day a member of a family dies. The next one is held on the third day, continues on the seventh day, fortieth day, the hundredth day, and the greatest one will be held on the thousandth day. The Javanese believe that on the thousandth day, the spirit of the dead person is already at the peace in the another world.

2. SULAWESI
The Torajan people in South Sulawesi (Celebes) believe that the spirit of a dead person enters puya, place for the dead. Dead people that go to puya must show his social status when he was alive. So the funeral ceremony for a person who had a high position in the community may look like a carnival. The dead person is accepted as dead when a complete funeral has been held. Before that, the corpse is considered to be a sick body, kept in a traditional house called 'Tongkonan.' He is dressed and offered food.

3. BALI
The Balinese of Trunyan put the dead body under a tree after a mourning ceremony. It's not buried or burned, not even covered. The amazing fact is, the body will rot, but DOES NOT smell. The place where the dead is put is near a village in Lake Kintamani, the largest lake in Bali Island.

4. FLORES
Manggarai people of Flores, in the southeast part of Indonesia, (people there are Austroloid, not Mongoloid by race) believe that the spirits of the dead, called poti, stay where they used to stay when they were alive, especially near the bed. After some time, the poti move to wells, big trees, or crossroads near the house. They watch their grandchildren, but don't disturb the living people. After five days, the poti will go to Mori Karaeng, the place for the dead. Manggarai people believe that everything in Mori Karaeng is opposite of that in the world of the living. People break dishes and glasses on the fifth day so that the poti will have the dishes and glasses in good condition at Mori Karaeng.

Mario Rustan

A dead body doesn't smell.
Mummies made in the nature have been found in Egypt and Andes but it's not sure if this is the same kind of case because Bali is more humid than those areas.
BACK

INDONESIAN MYTH HOMEPAGE
ANCIENT WORLD CLUB HOMEPAGE