WHY DOESN'T A BEAR HAVE A LONG TAIL?
This is a Malay folktale, which is one of the ancient folktales that was "saved" from extinction. A Dutch scholar, C. Hooykaas carried out his researches into Malay culture in the end of 19th century and he contributed to protect it.
The original script is in Malay language, not in modern Indonesian language and I did my best to translate it into English.





One afternoon, a mouse deer was sitting in a pit, eating nuts. He heard a tiger was coming closer and he thought the tiger was going to eat him.
The mouse deer was very scared and his heart beat so hard.
Then, an idea came to his mind and he made a loud noise of chewing nuts, saying, "Wow, how delicious is this tiger's eye!"
He repeated it for five times.
Tiger, the king of jungle, was so scared to hear that and he moved back.

Tiger met a bear on the way and he said, "Hey, Bear. Do you hear what did the animal on the pit over there, eating tiger's eyes?"
Bear said, "I don't know, Your Majesty,"
Tiger said, "Then let's see."
Bear replied "But I'm scared, Your Majesty"
Tiger said, "Don't worry. Let's make a deal with me. We're going tostay together, uniting our tails. If anything happens, both of us will face it."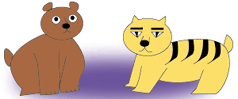 Tiger and Bear tied their tails and moved into the pit with full cautions because they were expecting to see a big enemy.
The mouse deer was surprised again.
He thought quickly and yelled, "Oh, that's the glutton tiger! His father owes us a white bear, now he will pay us with a black bear. Come on black, over here."
Bear was so surprised. "Hey, it's a Tiger's trick! He wanted to use me to pay his father's debt!"
Bear went into a panic, which also made Tiger panic because they were tied each other.
Accidentaly, Tiger stepped on the Bear's tail, then jumped. Bear was beaten on the ground hard, and his tail was cut off.
That's why Bear doesn't have long tail.

Thus the mouse deer escaped from the tiger twice.


Mario Rustan




Mouse Deer
Mouse deer is very popular in Indonesia. It's very small like a mouse and has no horns.
Another story for mouse deer is here.
BACK

INDONESIAN MYTH HOMEPAGE
ANCIENT WORLD CLUB HOMEPAGE