Western Serpents
This is one of the flags used in the American Revolutionary War.







Serpents appear in the Bible.
When the Israel were getting across the desert led by Moses, they complained "Wherefore have ye brought us up out of Egypt to die in the wilderness? for there is no bread, neither is there any water; and our soul loatheth this light bread."

Then, God sent them a fire serpent which bit the people and many of them died.
Moses prayed for the people and made the brass serpent to set it on a pole. The people bitten by the serpent could survive when they looked it up.

This is the famous 'Brass Serpent of Moses.'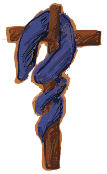 The serpent set on the pole reminds the Jesus on the cross.