A STORY OF CARTHAGE

GODS
Carthaginians brought their gods from their homeland, Phoenicia.
The supreme god was Baal who was popular in Baalbek, Parmyra and other cities in Western Asia.
It seems they brought the custom of child sacrifice from Phoenicia with the god Baal.

Romans hated Carthage but they accepted the belief of Baal and made the statue ....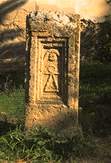 Tanit was the most admired goddess in Carthage. It seems she was a variation of Astarte and given the Carthage name "Tanit."


You can see Tanit anywhere around in Carthage.




---
---

CARTHAGE HOME