A STORY OF CARTHAGE

ADVENTURE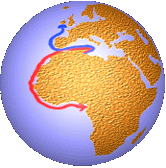 About 2000 years before Vasco da Gama
reached at the Cape of Good Hope,
Carthaginian might have reached a half of the way.
According to the written record,
King Hanno might have sailed to the Gulf of Guinea in B.C. 5C.
And there's another record of sailing by Himilco,
who went up to the north and reached the Ireland!
Carthaginian made the colonies along the way of their sailing.
Which means, there are the descendants of Carthaginian
all over Europe and Africa?
---

HERCULES' PILLARS
---

CARTHAGE HOME