I will introduce the back of this ticket.
A summary of Tokyo station
Time in 70 passed, since Tokyo station of "renaissance type" red brick appeared with Mitsubishigahara toward pine of Tokiwa and beautiful Imperial Palace. It happend Kanto earthquake disaster, war damage, revival of after the war ,opened completion of Yaesu-main-building, a curtain of the times of Sinkansen, and commencement of practice of a subway.Lost the dome of beautiful symbol by exoticism, but please utilize Tokyo station in departure and arrival of about 2700 of them trains and about 1400000 persons for one day.(It is memory admission ticket of publication on the National Railways Corporation Tokyo south railroad management station, December 20, 1984)
The history of Tokyo station(1)
| | |
| --- | --- |
| ●The history of Tokyo station | ●A major event |
Taisho 3.12.20
Tokyo station commencement of practice becomes the starting point of Tokaido.
 
 
Taisho7. 2.15

The opening to traffic between Tamati,Sinagawa by four-track line.

Distribute Yamate Line and Keihin Line start driving.

Taisho7.1
Mr. Hideyo Noguchi discover yellow fever disease-causing germs.
Taisho8. 3. 1
The opening to traffic between Manseibasi, Tokyo.Tokyo station become the starting point of Chuuo Line.
Taisho8.3.25
Tokyo station design person Dr. Kingo Tatsuno dies, 65-year-old.
Taisho8. 8.20
The third class express train one coming and going is new between Shimonoseki, Tokyo.

Taisho9.1.14

Taisho9.5.1

Taisho9.5.15

The first world war end。

First May Day in Japan.

Mr.Hajime Motoda takes office as the first generation railroad minister.

Tokyo station in about 1924
| | |
| --- | --- |
| ●The history of Tokyo station | ●A major event |
Taisho10.10.14
Railroad opening to traffic the 50th anniversary memory celebration conduct.
Taisho10.11.25
Hirihito Sinou become Sessyou.
Taisho10.11.4
The prime minister Kei Hare ,assassination case happens.
 
 
Taisho11.10.14
Establish October 14 with railroad memorial day.
Taisho12.2.20

Old Marubiru was completed 。

"Sendoukouta" "Songs of biwa lake commission" succeed.

Taisho13.12.20
The tenth anniversary Tokyo station commencement of practice
Taisho12.9.1
Kanto earthquake disaster .
Taisho14.11.1
Tokyo station becomes the starting point of Tohoku line.

Taisho14.3.22

Taisho15.1.20

Taisho15.12.25

NHK radio broadcast start.

Dial expression automatic telephone system enforcement.

It is the Showa era and change of an era Taisho emperor demise.

Showa 3.11.6
Train driving of the Imperial Family for Onori between Kyoto, Tokyo.

Showa2.

Showa2.12.30

Showa3.2.20

Showa3.7.28

It is the recession times arrival a financial panic.

Subwaybe opened to traffic between Asakusa,Ueno.


The first general election enforcement by general election

It is holding in No. 9 Olympics Amsterdam.

Showa4.9.15
A limited express train between Shimonoseki, Tokyo name "Fuji" and"Sakura" .
Showa4.4.13
House of first generation railroad general Mr. Shinpei Goto dies ,73-year-old.

Showa5.3.15

Showa5.10.1

Showa5.11.14

Showa6.2.1

Train driving start between Yokosuka, Tokyo.

Begin super express train "Tubame" driving between Kobe, Tokyo.

It is shot at Prime Minister Hamaguchi the fourth line home.

It is the third class a sleeping car driving start in express train between Kobe, Tokyo.

 
 
A continuance has this future still more.
---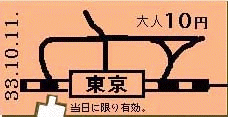 Back to page of ticketgallery .
---
---
MITUHIKO KOMOBUTI HOMEPAGE, TICKET TO TOKYO.

E-Mail: como@st.rim.or.jp