It is a continuance of introduction of back of a ticket.
The history of Tokyo station(2)
| | |
| --- | --- |
| ●The history of Tokyo station | ●A major event |
Showa 7.2.25
The establishment of Tetudoukousaikai.It is started business by five places in a station a stand.
Showa7.1.29
Shanghai incident outbreak.
Showa7.8.1
Fill an exit with a policeman and establish a place.
Showa7.5.15
5.15 case happens.
Showa7.9.1
Extend it to Keihin Line, Oomiya and drive and start it.
Showa7.7.30
Hold it with No. 10 Olympics LosAngeles.
Showa7.11.1
The guard arrangement is established when driven a train of the Imperial Family.
 
"Kgewositaite", and "Willows of Ginza" succeed.
Showa8.9.15
Express train driving start between Chuuo Line Tokyo 〜 Nakano.
Showa8.2.24
International league withdrawal.
Showa8.10.31
Cancel the station hotel business right of Seiyouken and establish it by the direct management as Tokyo railroad hotel.
Showa8.12.23
Crown Prince Akihito Imperial prince birth.
 
 
Showa9.1.1
Takarazuka, Tokyo theater opening.
 
 
Showa9.3.16
The first appointment of Kunitachi Park(Setonaikai・Unzen・Kirisima)
Showa9.12.1

Tanna tunnel opening to traffic.Incorporate Kouzu〜 Atami 〜 Numazu interval into Tokaido line.Rename an old line to Gotenba Line.

Found load station home.

Showa9.11.2
America league baseball visit to Japan.
Showa9.12.20
The 20th anniversary Tokyo station commencement of practice.
 
 
 
 
Showa11.8.1
It is holding in No. 11 Olympics Berlin.
Showa12.4.1
Appoint special one to a station.
 
 
Showa12.5.1
It is enjoyed singing new railroad song.
 
 
Showa12.7.1
Start each equal limited express train "Kamome" driving between Tokyo 〜 Osaka.
Showa12.7.7
Sina incident rises.
 
 
Showa13
" Tabinoyozora "," Jinseigekijyo" succeed.

Tokyo station which there was in war damage October, 1945.
| | |
| --- | --- |
| ●The history of Tokyo station | ●A major event |
 
 
Showa15.11.10
It is ceremony holding in A.D. 2600.
 
 
Showa16.12.8
The world war 2 outbreak.
Showa17.10.14
Railroad the 70th anniversary memory celebration type conduct.
 
 
Showa19.12.20
The 30th anniversary Tokyo station commencement of practice.
 
 
Showa20.5.25
Tokyo station war damage.
 
 
Showa20.5.30
Tokyo station revival construction start.
Showa20.8.6
Atom bomb throwing down to Hiroshima-shi.
Showa20.9.1
RTO the establishment.
Showa20.8.15
The end of the world war 2 .
 
 

Showa21.5.1

Showa21     

Hold it in an open space in front of May Day, Imperial Palace.

"Ringono uta","Kanasikitakebue" succeed .

Showa22.3.15
It is assumed that it is built the third floor and is built station, the second floor and is restored to the original state.
Showa22.5.3
The new constitution promulgation.
Showa23.11.16
A new station building of Yaesuguti is completed and is business start.
Showa23.5.2
Daylight-saving time setting.(From 1948 to 1949)

Tokyo station which revives in October, 1946.
To enjoy a continuance of this page.
---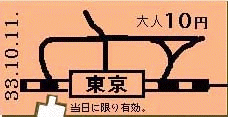 Back to page of ticketgallery .
---
MITUHIKO KOMOBUTI HOMEPAGE, TICKET TO TOKYO.

E-Mail: como@st.rim.or.jp
本ページに関するお問い合わせは菰渕光彦 までどうぞ。