Appendix
- Go to Hawaii
In this chapter, I will show you how to get a ukulele in Hawaii.
The most famous Hawaiian ukulele manufacturer is Kamaka. Since1916, Mr Harb Ohta has been playing the Kamaka. Kamaka is ukulele, ukulele is Kamaka.
Once you arrive at Honolulu airport, you must check which day of a week of it is. Kamaka's ukulele shop is open Monday through Friday. If you arrive on Saturday or Sunday, you are free to do as you please. You can go to Ala moana shopping center or Wikiki beach, if you'd like.
You should also try to go the instrumental shop of Honolulu. But a Kamaka is a very rare item, so it's difficult to find one.
On the other hand, If you arrive at Honolulu on a weekday, you're in luck. After you check into the hotel, go out soon with the following memo:
Kamaka Ukulele ink.
south.st 550

The shop of the Kamaka ukulele is open from 8:00AM to 4:00PM . You must hurry up! So don't forget the memo pad and a pen. Call a taxi and show the driver your memo. About $15 will get you to Kamaka near the Restrant Row.
If you don't want to spend $15, you can get there by bus. It is only $1.
You arrive at the shop of Kamaka,It seems to curtly,but not.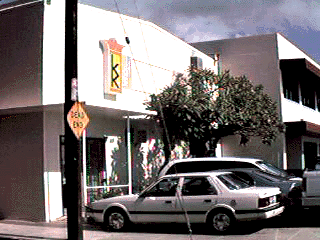 The ukuleles sold here are said to be factory seconds, which means second rank quality. They have small scratches. Of course, the sound is not affected, and the price is 90%; It's good!
If you can't buy one today, don't mind! Today is the preview day. What you must do is check the list on the wall. It shows the release dates of the ukuleles.
(Fig.'P)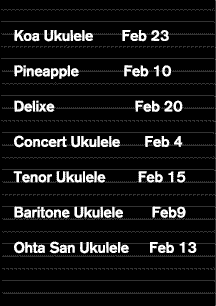 You must memo the day that the ukulele which type you want is released. Of course, if there are some ukuleles on hand, you must buy one with no hesitations..
---
Ok; After your preview, you can enjoy your vacation of Hawaii 'till the release day. On the release day, you had better get there early.
Credit card are accepted. If you have decided on your favorite model of ukulele, you should call before you go to Hawaii. But be careful!
Factory Seconds are not always sold.
They don't accept backorders
If they accepted backorders, orders would be added and added until a few hundred orders are piled up.
---
| | |
| --- | --- |
| | I was very, very lucky that I could get the pineapple shape on my first visit.(That was the day of its release) |
| | My kamaka.The sound is nice, with good handcraft. |

Learning the Ukulele
You can take lessons for the ukulele in Hawaii, as well.
I didn't go here so sorry, if i made a mistake.
Royal Hawaiian shopping center
Honolulu

Here is most famous shopping center of Honolulu, which is easy to find.

---
---