YOU CAN BE A PSYCHIC
3. LEVITATION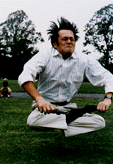 Levitation in 'lotus position.'
Buddhists take 'Lotus position' during 'Zazen' (meditation). And it's said that if you attain spiritual enlightenment, you can keep yourself in the air! But actually, even if you don't, it's easy to pretend. The most important thing is, in short, how to make a pose with which no one can imagine a possibility of jumping. There are several ways. Here we present two of them.
ƒNECESSARY GOODS"
Camera and a film (and you'd better preparing a cushion for your safety).
ƒHOW TO PERFORM"
(1) Jump in the lotus position, and take a photo when you are in the air (see the photo). It may seem impossible, but you can do it after some practice.
(2) From standing position, put your foot on the opposite thigh and jump with one leg. Fold pivot foot in the air. Photo should be taken from side-rear not to reveal real posture.

Be very careful no to get injured. You will get nothing but mocking if you get injured from this kind of stupid act.
PREVIOUS
ZERO WORLD HOMEPAGE