YOU CAN BE A PSYCHIC
2. SPOON BENDING
Spoon bending is one of the most popular psychic performance in these days. It is almost the synonym of psychokinesis. There will be no need to explain what it is.
ƒNECESSARY GOODS"
Spoons
Select easy one to bend. Generally, the cheaper is the better.
ƒHOW TO PERFORM"
Spoons can be bent by physical strength (even if some of you can't imagine), but you must be careful not to be noticed to do it. The followings are the most popular methods among the several ways to bend spoons.
---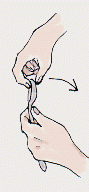 Hold the spoon at the neck (the thinnest part) using thumb and forefinger. Little finger should be place at the edge of grip (from the same side with forefinger).
Pull the spoon at the top of the dish (opposite edge of the little finger) using another hand, the thumb at the neck should be kept straight. You need some strength but spoon will be bent easier than you think.
---

Hold a spoon upside-down and crush it against floor or something hard and stable. This is easier than the first method, but you should turn your back toward spectators unless they can immediately know what is going on.
---
NEXT
ZERO WORLD HOMEPAGE