A ticket of Metropolitan streetcar
---
November 11, 1972. This ticket is a "Good-by"ticket of the abolition memory. Introduce a commentary of each streetcar.
---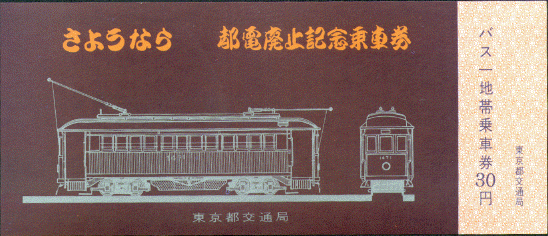 ĀÉ1471 typeĀĄ
HOHESA1471typeĀiNOS1471-1652)1854type(NOS1854-1953)1954typeĀiNOS1954-2103)180 cars were produced for from 1914 to 8, and 250 cars were produced for from 1921 to 12. Adopt the first domestic stand car D-1 and D-2 after NO1526. First on a vehicle of NOS1471-1481, a pneumatic brake was installed, but, for trouble frequent occurrence, it was taken off and became only hand brakes.
---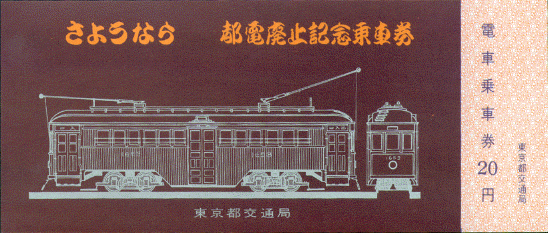 ĀÉ1653typeĀĄ
HOHENAKAĀ@1653typeĀiNOS1653-1853)Ā@Ā@3 door car which it was produced for from 1919 to 10, and is first in a streetcar.A form extends the body of "HOHESA" and is the form that established a double exit to the center department. Front and back edge was used for entrance exclusive use at a folding door.A pneumatic brake was adopted more really than this form, and a pole became front and back expression from the first, too.And I abolished Parmenter fender and did it with Striker type, and a bumper was installed.
---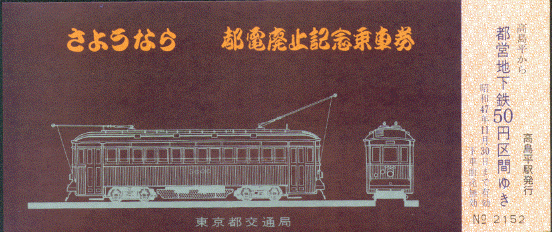 ĀÉ3000tvpe-WoodenĀĄ
3000type-wooden(NOS3001-3610)
Wooden car that 610 cars were produced between things of 1924 after an earthquake disaster in large quantities from 1922, was active in reconstruction the whole line ward in Tokyo city . It is the vehicle which did basic type of Tokyo streetcar.Ā@Stand car adopted D-10 low bed expression and used a steel frame for reinforcement of the body and I attached a sliding door to an entrance and appeared.373 cars were destroyed by fire by war damage, but active in revival, and it was improved in new 3000 form from 1949.
---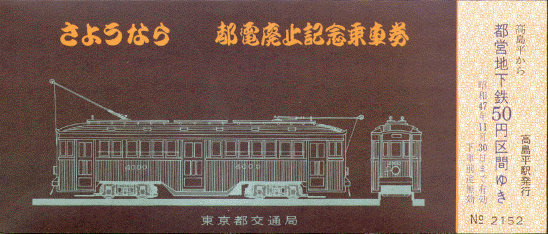 ĀÉ4000type-WoodenĀĄ
4000TYPE-WOODEN(NOS4001-4050)Ā@Low bed type steel frame of production is wooden 3 door car in 1925.Stand car uses D-11 designed anew, and front and back are squeezed style, and give an impression to be HORSE FACE becourse the front is a flat.
In 1925, 4100 form to hit younger brother share (4101-4150) was produced, but, as for the others which I let have roundness a little in the front, and an accent was touched, there are not 4000 form and a change.
---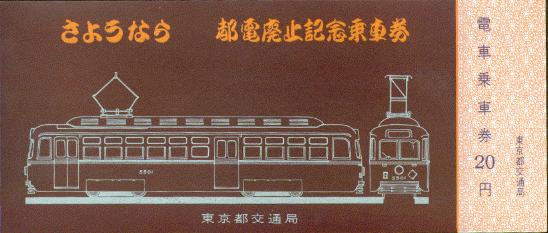 ĀÉ5500typeĀĄ
5500type(NO5501)Ā@It is P.P.C car which a patent was bought than America, Westinghouse company in 1954, and was made. It was called "no sound trains" and collected attention by mass communication in those days.Driving device was standstill type entirely at first, but it was disliked by a crew, and it was changed same as a general car in 1960.It is stored in Ueno-Shinobazunoike as memory car currently.
---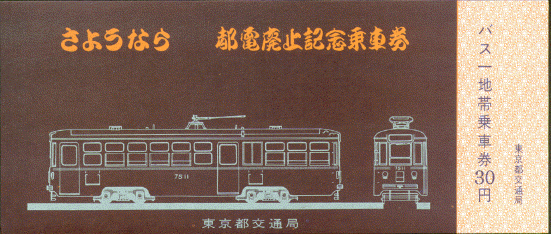 ĀÉ7500typeĀĄ
7500type(NOS7501-7520)
This type appeared by 20 the last construction cars in 1962.Ā@A figure of metropolitan streetcar as before changes a direction, and system number is added to this type during the truth two headlights.Stand car used D-23 and belonged to all vehicles Aoyama business place at first, but, with reduction of a route, the abolition, threw it on Yanagisima business place, Arakawa business place.
---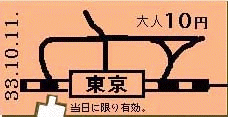 Back to page of ticketgallery .