What kind of mudguard is good?

In rainy season.Mudgurd promised you comfortable riding. Most popular one can be seen on kids bike.It's made by plastic and bolted on simply.
 The other type is putted on downtube.It's simple and strong,so MTV racer use.



If you have much money you can make it by pet bottle of drink.
Cut a pet bottle vertically and make 4 hole.Use some strings or wire,put this Down tube of your bike. *see left photo

I want to put on my bike the bar like a horn. And what is it?


That is …
The shopping bag hook

It is joke.It is the adopter for some positioning. You can ride some position by gripping this bar. It is effectiveness when you clime the hill. So you must not put it to DH handlebar.It's not cool.

Please tell me how to set the height of handlebar.


Best handle position is rinks to saddle height.
 A-head style stem is dificult to adjust . and sled type can move a little.Best position is adjusted by the angle and length of stem. Sled type stem is easy to adjust.And so the beginners must choice sled type stem. A-head type stem is easy maintenance but difficult to adjust.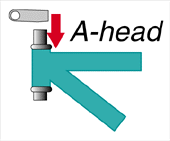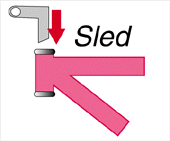 First you sit the saddle and put on your heel on the pedal. The best position is vending your knee just a little.
 Next,when pull up your clank front 45°,adjust your knee is up to your pedal.
 Seat position is OK,
 At last you will be watch from your side. Your top body 's angle looks 35°~45°is best  
 You don't have to mind your handle height. You may think length and angle of your stem. If you feel far to handleber,change your stem short or high angle type. The rule of stem
Longer,stability and,shorter quick stearing.
Higher angle makes easy position,but difficult to suppress handlebar.
 The point is balance of your body weight from front wheel to rear wheel.

I have rear suspension bike.
I like touring.I want to put carrier on my bike.
But it has no hole of bolt on the carrier.


It is difficult. The best way is you buy new bike for touring.
But if you don't have much money.
Use easy carrier bolted on sheet tube.

But it is like a big mudguard.It can't put on the heavy baggage.
Tuning the frame
Call the frame customiser.They can put your bike on the hole of bolt on your carrier.

How to daily maintenance of MTB


 Wash Wash Wash!
 With soap of kitchen.
Next,dry your bike and grease up. The easiest way is use the silicon splay.Splay all parts.If your bike have no problem,you don't have to do anything.
 The chain is expect. You'd better to use the chain grease.

I changed to V brake,so my heel is touched rear brake.


My research shows,

brings to your heel kiss the rear brake.
The answer of this problem is changed your pipe of wire guide to short type.It's have small overhung.Your heel is hard to touch rearbrake.

What is the bike of ciclocross?


The bike of ciclocross looks like road bike.Drop bar,and 700C tires.But brake is canchbrake same as MTB.It is difficult to be find.If you want it,you must order from framepipe.If you only want to feel the ciclocross,you have to buy cross bike.And change the handlebar to drop type.You can feel something like the crossbike.

 It is difficult to remove the carbon of the brake shoe.I use the degreaser.


Spray degreaser enough and wait a moment.So you can remove easily.