THE FAMLY TREE OF GODS
When you click the name of a god, you'll see his/her story.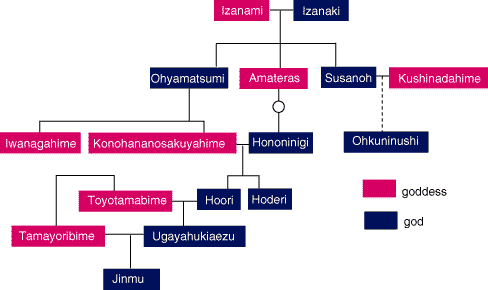 CHECK!

Sometimes gods have only one parent. For example, Amateras was born from Izanaki's eye.


There are numerous generations between Susanoh and Ohkuninushi but Ohkuninushi was visiting him because they're immortal.


Each god has a lot of brothers, sisters, and children which are not shown here.


-Hime or -bime mean 'princess' in Japanese.


It is said that Jinmu is the first Japanese emperor.



JAPANESE MYTH HOMEPAGE

ANCIENT WORLD HOMEPAGE