JAPANESE MYTH
THE UNDERWORLD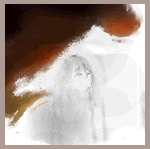 The god Izanaki and the goddess Izanami created the islands of Japan and also other gods.
One day, when Izanami gave birth to the god of fire, she died from the burns.
Izanaki felt he could not live without his wife, so he went to the underworld to see her.
When he saw her, she said,
"I already have eaten the food of the underworld, so I can't come back to you. But since you are here to see me, I'll ask the god of the underworld if I can go with you. You have to promise me one thing. Do not try to get a look at me until I come back here."
However, Izanaki could not wait and he went to the palace of the underworld. There he saw his wife's dreadful body with worms crawling all over it, and the terrifying gods of thunder.
Immediately Izanaki ran away and he used a big rock to block his wife from running after him. That is the rock which divides the underworld and this world.


A TRIP TO THE UNDERWORLD
This story is very similar to the Orpheus story in the Greek myth. It's said that this is not just a coincidence, the myth in Greece or the Oriental countries might have come to Japan through China and Korea. BACK
FOOD OF THE UNDERWORLD
It's not clear what exactly Izanami ate. In the Greek myth, Persephone ate some pomegranate in the underworld so she could not go back to her mother. BACK


If you have any suggestion or request, please send your message.

PREVIOUS