ARABIAN TALK
WAKING IN DUBAI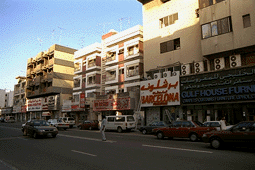 Dubai, a city of the United Arab Emirates, isn't a very well-known city. Maybe you have seen on TV some Arab men with veil and mustache, but it doesn't give you any clear idea about the city.
Actually, if you walk on the streets in Dubai, you rarely see the men with veil and mustache. Most of the people are from various Asian countries like India, China, Korea, Philippine, and so on.
They are here to work for this rich country. It seems like the local Arabs are too rich to go out and work. As a result, most of the people on the streets are someone from different countries.
You might have a chance to see Arab men, but not women. They rarely go out and even if they do, you'll never see their face because it's covered with a thick veil.
You can say that Dubai is a very exotic city, but not like you are expecting(A.A.).